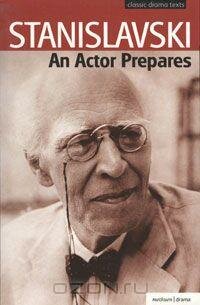 Константин Станиславский
An Actor Prepares
Автор: Константин Станиславский
Переводчик: Elizabeth Reynolds Hapgood
Языки: Английский
Издательство: Methuen Drama
ISBN 978-1-408-10003-5; 2006 г.
Страниц: 320 стр.
Переплет: Мягкая обложка
От производителя
"An Actor Prepares" by Konstantin Stanislavski is the most famous acting training book ever to have been written and has inspired generations of actors and trainers. Presented in the established translation by Elizabeth Reynolds Hapgood who worked alongside the author, Stanislavski's first volume remains as vital today as when it first appeared.
Written as a drama class, "An Actor Prepares" deals with the inward preparation an actor must undergo in order to explore a role to the full. Stanislavski writes with imagination, passion and inspiration, introducing his concepts of the 'magic if, units and objectives, emotion memory, the super-objective and many more now famous rehearsal aids for actors.
Формат: 13 см x 20 см.